For the past five years, Dole Packaged Foods has presented tropical and exotic themed floats in Pasadena's annual Rose Parade. Naturally, I was pleased to see some tikis on their 2015 entry, "Rhythm of Hawaii."
The design also featured two towering volcanoes with "lava" made with thousands of orange roses. To top it all off, it even erupted with real fire and mist. I was lucky enough to be able to see the effect in person as this was one of the few floats chosen to showcase their animation during the post-parade viewing.
For the fifth consecutive year, Dole's float won the Sweepstakes Trophy, awarded to the "Most Beautiful Entry with Outstanding Floral Presentation and Design." All the floats in the parade must covered with natural materials like flowers, grasses, seeds, bark or even fruits and vegetables. And since this was a Dole float, the company provided their own pineapples, bananas, mangoes and papayas.
Towards the front of the float was a double-hulled canoe wrapped in mahogany ti leaves and strung with leis of tuberose, globe amaranth, crown flowers (said to have been a favorite of Queen Lili'uokalani), dendrobium orchids and clover blossoms — all flowers native to Hawaii.
Swimming alongside it were dolphins and sea turtles. The latter were covered with individually placed mung beans and split pea beans.
I love spotting unexpected produce, like these onions placed among the blue irises, agapanthus, white roses and carnations simulating water. The parade volunteers were very amused to point out that these were Maui onions.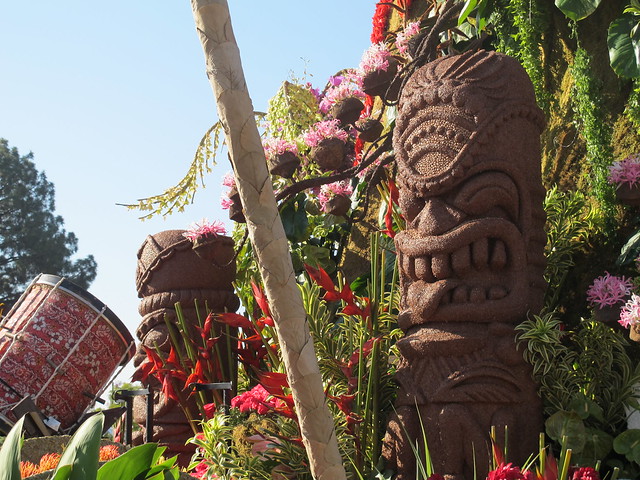 Of course, I also had to ask what was put on those two tikis. The answer: flax seed and pinto beans. Hopefully there will be more tikis on Dole floats in the future — it's only fitting considering they sponsor Walt Disney's Enchanted Tiki Room at Disneyland.
Related Post:
The City of Downey's 2012 tiki float "Enchanted Paradise"